Top 5 Emcees of 2007 (unordered)
Lupe Fiasco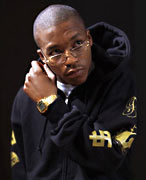 Take some imagination from Nas, wordplay from Ras Kass, Common's wits and judgment, Jigga's comfort on the mic, and throw in some experience from gang-riddled Westside Chicago. Feed it water, video games, and television for 10 years, and you'll end up with something like Lupe Fiasco: a culmination of the mid-90's best emcees, reincarnated as a nerd. What Lupe has that none of his predecessors do is an unmatched versatility, not just in trying different flows, but also changing subject matter to match. As he first showed on "Switch" (an experiment over the "Still Tippin" instrumental years back), Lupe is comfortable taking on several personas and switching up his delivery at will. His catalog has basically been an extension of that experiment, so much so, that no one can really categorize Lupe's song content. We know what Jay-Z is most comfortable rapping about, we know what to expect from Common, Nas pushes the envelope but still has his set of go-to themes, etc. There is not one, two, or even five "types" of songs that Lupe excels at, because he basically tries something new with every beat. Even within the would-be confines of one song, "Intruder Alert," Lupe writes three completely different takes on the topic: a rape victim learning how to love again, a drug addict, and a foreigner sending his daughter to America illegally. The Cool is basically a collection of concept songs, but their approach and execution are just as unique as the concepts themselves. His ability to go from Chi-town double-time flow, to early 90's Pharcyde/Souls of Mischief influence, back to 2007 Lil Wayne, and murder all styles effortlessly, are all proof that Lupe has the talent to match his ambition. Interesting enough on paper, Lupe's emceeing is the reason his music sounds good.



Noteworthy Performances: "Streets On Fire," "The Coolest," "Dumb It Down"
---
Crooked I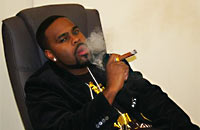 Sometimes it's hard being a Crooked I fan. Originally signed to Virgin Records in the mid-90's, and shelved on Death Row during what may have been his peak in marketability, the Long Beach emcee has yet to release a debut album in over a decade. Fortunately he's never lost his hunger, releasing numerous mixtapes and making several note-worthy appearances on the Wake-Up Show. In 2007, he gave us something even better than a traditional album. Hip-Hop Weekly is an internet series composed of raw rhymes over various instrumentals, usually one released every seven days (sometimes even two a week). In it, Crooked often raps about that week's current events (Imus, T.I.'s arrest, and Jena 6 to name a few), picks a mix of contemporary beats and old classics, and shouts out his MySpace fans. But most importantly, he completely blacks out for minutes at a time, every single week. By the end of the year, he'd released 39 volumes (he's going to week 52 in 2008). Hip-hop Weekly is the first series of its kind, and I can't imagine any other emcee pulling it off as consistently. One of the best rappers in a technical sense (lyrics, flow, delivery, voice, etc.), Crooked's natural talent is only matched by his insatiable hunger. He spits harder than almost anyone, but never runs out of breath, or slacks in intensity. In listening to some of the year's most intricate rhyme patterns, it's as if he only took seconds to come up with them. After rapping for 4 minutes straight, there is no sense that he's running out of steam any time soon. If prompted to, this man could most likely rap all day without slowing down. The level of skill in his rhyming is elite, but his pure physical ability to spit is unlike anything I've ever heard. Aside from the weekly series, Crooked also shows up on Hell Razah's "Halos," one of the year's best songs, in part due to his appearance. Hopefully 2008 will see the release of his debut album, B.O.S.S., but if not, we're still guaranteed plenty of great tracks.



Noteworthy Performances: "Halos," Hip-Hop Weekly: Weeks 21 and 35
---
Brother Ali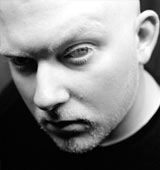 If not for Lupe and Crooked, this would be a pretty easy list to rank. In 2007, no single emcee released as many stellar songs as Brother Ali. In April, his long-awaited album The Undisputed Truth came with an extremely solid mixtape, Off the Record. One month later, he released a triple edition vinyl single for "Uncle Sam Goddam," with three different original B-Sides. All of these projects feature a solid performances, whether story-telling, sorting through personal problems, battle rhymes, social commentary, or random musings. Song for song, his quantity/quality ratio is unmatched in this decade. While very few rappers today share his skill level, what really separates Ali from his contemporaries is his conviction. He knows who he is, truly believes every word he says, and conveys that authenticity to the listener better than anyone. He's not rapping idly to take up space between the chorus; when he raps there's a concerted effort, as he says "trying to be one of the greatest of all time." As a fan, it's the difference between recognizing a boxer's skill and actually rooting for him to become champion. Due to the mixtape, this year we got to hear Ali over a variety of production, and the results were up to par with his Ant creations. The song-writing is consistent across the board. In terms of writing honest music with poignant rhymes, Ali's in a league with late-90's Common. They both have a tendency to express their current ideologies, handle situations, and solve personal dilemmas in their songs, to the point where you can actually listen to the artist grow as a man with each release. Only time will tell if he will fall into a similar comfort zone, but so far his track record is virtually spotless.



Noteworthy Performances: "The Puzzle," "Operation Push," "Daylight"
---
Andre 3000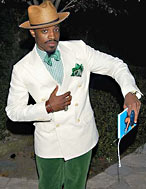 The current state of the rap game, coupled with technology, has lead many talented rappers to take a "flood the market" approach to keeping their names hot. While a strong work ethic is commendable, a strong track record should still be appreciated. A legend once said "too many songs, weak rhymes is mad long/make it brief son... half short, twice strong," and aside from himself, no other lyricist has applied that writing philosophy better than Andre 3000. The word choice, the cadence, the effortless flow, the confidence, the seamless switch between allegory and direct conversation, all add up to make Andre one of the greatest natural rappers of all time. Last winter, the Atlanta poet made an unexpected return to hip-hop by sneaking on a remix of a local hit, DJ Unk's "Walk It Out." While everyone was certainly surprised, nobody complained. This year he continued to build momentum by stealing the show on Jay's "30 Something (Remix)," but not before recording two notable Southern collaborations, Devin's "What a Job" and UGK's "International Player's Anthem." The former is a verse about what it's like to rap for a living; despite this being a topic that rappers write about ad nauseum, Andre gets his point across much better using an encounter with a random fan (a technique that also worked on "Elevators"). The latter is a rhyme announcing his nuptials to his friends, male and female. How many rappers could effectively spit a whole verse about marriage on a hit single before the beat really comes in? His coldest appearance is probably the most recent, on DJ Drama's "Art of Storytelling 4." The verse is more or less stream of consciousness, spit with a bold delivery reminiscent of his Aquemini/Stankonia era. He ends the verse answering the question of whether or not he's still got it, but it was answered somewhere around the second bar.



Noteworthy Performances: "What a Job," "Art of Storytelling 4," "International Player's Anthem"
---
Talib Kweli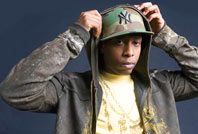 In recent years, Talib had become comfortable writing corny similes and cruising along on the strength of past classics. While making records sounding completely out of his element, he started to blame fans for trying to put him in a box. At some point, he either realized what sound he was best at, or he just decided to patronize his core audience. Whatever the case, it worked; in 2007 we saw a fire lit under the Brooklyn emcee, and it marks the rare occasion when a rapper has bounced back even stronger than before his decline. The year kicked off with a free album, Liberation, a collaborative effort produced entirely by Madlib. The album was well received, in part because Kwe fans were happy to find him return to the type of grimy production we first heard him over. It was also good to hear Talib rhyme with one producer for a full release. While the project was hit and miss, he would later go on to drop a ridiculously fire album, Ear Drum, arguably his best solo to date. Kweli's strongest quality is his ability to skillfully voice what's wrong, and how it could be better, in a way that many of us were already thinking. Common sense is surprisingly uncommon, and sometimes you just need a reminder. Mainstream media, religion, music, politics, and even some day-to-day beliefs we're fed to believe are often severely flawed, and it's good to have an artist who can effectively articulate why. Talib's rhymes have a technically sound aesthetic shared by many emcees who babble about nothing, but his words actually have meaning. You listen to a song and come away with not only a record that sounds nice, but a message that just resonates in the soul. In a way, Talib's A-game reminds me of Obama's 2004 Democratic Convention Speech, but with really great beats. He didn't necessarily say anything groundbreaking, but it just needed to be said and sounded so sweet. A lot of emcees can rap "conscious," but few can make truly enjoyable music with skill and purpose. That is the point, right?



Noteworthy Performances: "Hostile Gospel Pt.1," "Eat to Live," "Happy Home"
---
Joe Budden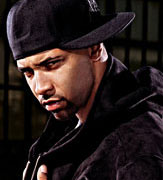 ARE YOU IN THAT MOOD YET?!? In the last 5 years, Joe Budden is the only legitimate Tri-State solo artist to break in the mainstream. He has the total package of skill, sincerity, and the ability to make a wide variety of songs accessible. For whatever reason, Def Jam no longer found a use for that sort of thing. As Budden puts it, "got signed having the answer then the question changed." In a way, he turned into this generation's Ras Kass: a great artist shelved indefinitely in his prime (who also gets an unnecessary "S" added to his name-- no, they're not spelled Rass or Buddens). In 2005, he released the now-classic mixtape, Mood Muzik 2, a collection of acute catharsis. One of my hobbies was trying to convince hip-hop fans that Joe Budden was more than "the Pump It Up guy." It was a bit like feeding fat children vegetables, but they eventually came around. Despite critical acclaim, Def Jam didn't take notice. In 2007, Budden made a decision that may go down as one of the smartest moves of the year. Instead of trying to convince his label to make him a priority only to get shelved again, he recorded a gang of music and kept it to himself to appear lazy. As soon as Def Jam released him from his contract, he dropped Mood Muzik 3, 17 all new original songs that follow the same theme of introspection, wit, bitterness, and passion. Budden's ability to express male vulnerability without sounding soft is a unique quality, one only topped by 2Pac circa Me Against the World. Now a free agent, Budden's fanbase is excited as ever, but it's also made him some unexpected enemies. Former affiliate Ransom took the label split as a sign of weakness, and threw shots at the man who brought him in the game, presumably to garner some attention for himself. It worked, but perhaps not as he'd hoped. Budden replied to Ransom's first diss record in hours, rapping circles around him with gloves on; when Ransom returned fire, Budden dropped "Ransom Note," a 7 minute freestyle over The Takeover, effectively ending the beef as quick as it started. Between the drama and the music, Budden's shown that not only is he anything but lazy, he's still in a great position to make solid music well into 2008 and beyond.



Noteworthy Performances: "All of Me," "Invisible Man," "Ransom Note"
---
Honorable Mentions:
Royce da 5'9" (in terms of mic presence)
Killah Priest (in terms of imagination)
Jay-Z (in terms of a real comeback)
Lil' Wayne (in terms of work ethic)
Slug (in terms of devotion)
T.I. (in terms of making bland production listenable)
Saigon (in terms of entertaining without an album)
Common (in terms of his daughter's eyes)
Rookies of the Year:
Jay Electronica [ New Orleans, LA ]
S.T. 2 Lettaz [ Huntsville, AL ]
Blu [ Los Angeles, CA ]
---

Yes, I'm aware that's 6 emcees in my top 5.

What are you gonna do about it?

Not a goddamn thing.

If numbers are really an issue, my Top 5 Producers might be too much for you. How do you compare a production team to one producer? What about beats from 2006 that didn't become songs until 2007? People who play instruments vs guys who chop up samples? Well-composed songs with mediocre beats vs amazing beats on unmemorable songs? It's complete mayhem over here at SoundCircuit.com.

...are you afraid of it?
If you'd like to be notified when SC 3 debuts, join our
Mailing List
.